Our Body Piercing Products
0.00 US$
Terms & Conditions
After sending us your order wait for us to send you an invoice with the goods that we have in stock, this usually takes no more than two days. On this invoice we will also include shipping charge as that has to be paid by consignee.
We usually send by either DHL or UPS depending on the cost and delivery time based on the country we shipping to.
The cost and delivery time may vary slightly from country to country so we only state estimates below.
Shipping charge depends on the weight of your order as well as where you are located. We send this info to our shipper who then will give us a quote from either DHL or UPS depending on which is the cheapest. For smaller order of 1-2kgs the charge is usually around $60.00.
Delivery time is usually 3-5 working days but in some cases can be longer, we are not responsible for how long it takes for DHL or UPS to deliver the package but we will always do our best to assist in a speedy delivery.
Chaotictrading.com is not liable for any delay caused by restrictions of importing certain materials as horn, bone, shell, etc. We will always declare your goods as assorted fashion accessories unless otherwise specified by the customer. If the customer wants to include other information in the shipping invoice it has to be mentioned before shipping and the information has to be provided by the customer. We include a letter of origin only upon request by the customer. Any permits required to import our products are the sole responsibility of the customer to obtain.
Your DHL shipments can be tracked on DHL website.
Your UPS shipments can be tracked on UPS website.
(For customers with shipping accounts with any international courier-service please let us know and we can ship to you collect on your own account.)
We will ship the goods once received full payment over here. Make sure to pay the transfer fee when using bank-transfer to send the money as otherwise we shall not receive the full amount in our account and we will deduct this amount from the order.
Also please make sure to confirm payment by either fax or e-mail so we know that the money is on its way and we know who sent it when it arrives.
For more information please read our return and shipping policy.
Fax: +62-361-762 687
E-mail: info@chaotictrading.com or contact us here.
If you got any questions or requests please submit them to the e-mail address above.
ONLINE PAYMENT
Paypal.com, Inc. is the exclusive authorized retailer of goods and services provided by chaotictrading.com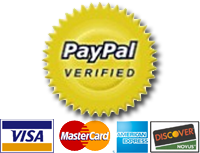 Dear Customer, Your period of inactivity is too long and you are going to be signed off. If you want to continue shopping, click the button below